3D Proce55ing work
"Processing is a programming language and environment built for the electronic arts and visual design communities. It was created to teach fundamentals of computer programming within a visual context and to serve as an electronic sketchbook. "
All of the below require the java plugin.
Once having heavily experimented with web 3D technologies such as Shockwave, Virtools, and Wild Tangent I wondered how well Proce55ing could work as a web 3D delivery platform. The philosophy behind 3D graphics in Proce55ing is very simliar to OpenGL with how it uses a transform matrix and how vertexes are defined in 3D space to build lines, polygons, and shapes.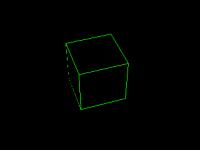 Ed's Proce55ing 3D Geometric Primitive Tester - an applet and source code to draw 3D Primitives beyond the built in Cube and Sphere primitives included in proce55ing.
More to come............
e-mail me at edtang at antiexperience.com
All Materials Copyright © 2004 Edward Tang. All materials on this site including interactive programs, images, videos, and text are the property of Edward Tang and is protected by copyright and are not to be reproduced without permission. All Rights Reserved.