"Threads://Porn_Personals" was just added to the Rhizome.org ArtBase (judged by Rhizome to have "potential historical significance") and is currently exhibiting in the "Fresh Art" section at Rhizome.org. Click here to see the entry.
Exhibited at the New Forms Festival in Vancouver, BC in October 2004.
1st Place Winner of the New Forms Festival 2004 Juried Net Art competition.
"Threads:Porn_Personals.html"
in collaboration with Jeanne Strole
A common paradigm in the new media genre are pieces that reflect some aspect of the viewer's visual appearance - virtual "mirrors" that take in live video input (usually via webcam) and then feed back that visual data in intriguing ways. My interest in using this technology is not to simply present a two dimensional "mirror," but to combine that effect with 3D graphics, creating an onscreen virtual space that is sculptural and architectural, as well as, graphical. I call the approach "3D Video Sculpture."
"Threads:Porn/Personals" is a work using a pre edited video, the World Wide Web, and specialized software to generate a 3D Video Sculpture on a computer screen.
click on a picture for a larger version

Continuing in the themes first expressed in "Threads://HTML," this work combines the "found material" of a dynamic webpage, in this case, the first page of the "men seeking women" section of New York Craigslist (at http://newyork.craigslist.org/mnh/m4w/) and a clip of edited hardcore porn footage. The raw html page is parsed to eliminate extraneous text and reveal only the titles of individual personal ads.
In place of a live webcam, pre-edited video is used as the basis for the on screen video sculpture. The sequence is captured from an adult film wherein mismatched couples meet on blind dates that inevitably culminate in extended sessions of hardcore sex.
click on a picture for a larger version
Pulsing sheets of warm, skin-toned light emerge from the video image and one can just make out the shapes of two people engaged in sex. As the video runs, the software detects the motion of sexual intercourse. From the areas of most intense "activity" emerge the text of the personals headlines. This creates a direct metaphor, juxtaposing the personal ads with the physical act of sex. So, we have combined in one piece, the desire that prompts many of the ads and the expectation fulfilled in the physical act of fucking.

click on a picture for a larger version
The dream of fucking, as represented by the abstract motion of the video clip seems to give life to the ads themselves.
The software was created in Windows C++ using Visual C++ .NET, using Quicktime for live video capture, OpenGL for graphics, and the MFC WinInet classes for accessing the Internet.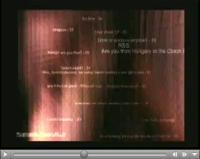 Click here to view a clip of "Threads:Porn/Personals" in motion!. (10.7 MB Quicktime Movie)
Jeanne Strole bio:
Jeanne Strole is a New York native who's passions growing up included art and social justice activism. However, she set aside these pursuits after the loss of her mother to leukemia in 1990. In the years that followed, she earned a degree in Sociology and Media Studies from SUNY Purchase and pursued a career in marketing.

After the events of 9/11/01, she felt a desire to resume her work as an activist and artist. She began volunteering in design and layout for the print project of the NYC Independent Media Center and eventually transitioned out of marketing.
Currently, Jeanne divides her time between work at a NYC foundation that supports projects promoting nonviolent alternatives to armed conflict, and her work as an artist and freelance graphic designer. She is interested in working on art and design projects that promote social and economic justice and environmental sustainability. For more information on her work, you can contact her by email at earthworm@riseup.net.
e-mail us at threads at antiexperience.com
All Materials Copyright © 2004 Edward Tang and Jeanne Strole. All materials on this site including interactive programs, images, videos, and text are the property of Edward Tang and is protected by copyright and are not to be reproduced without permission. All Rights Reserved.